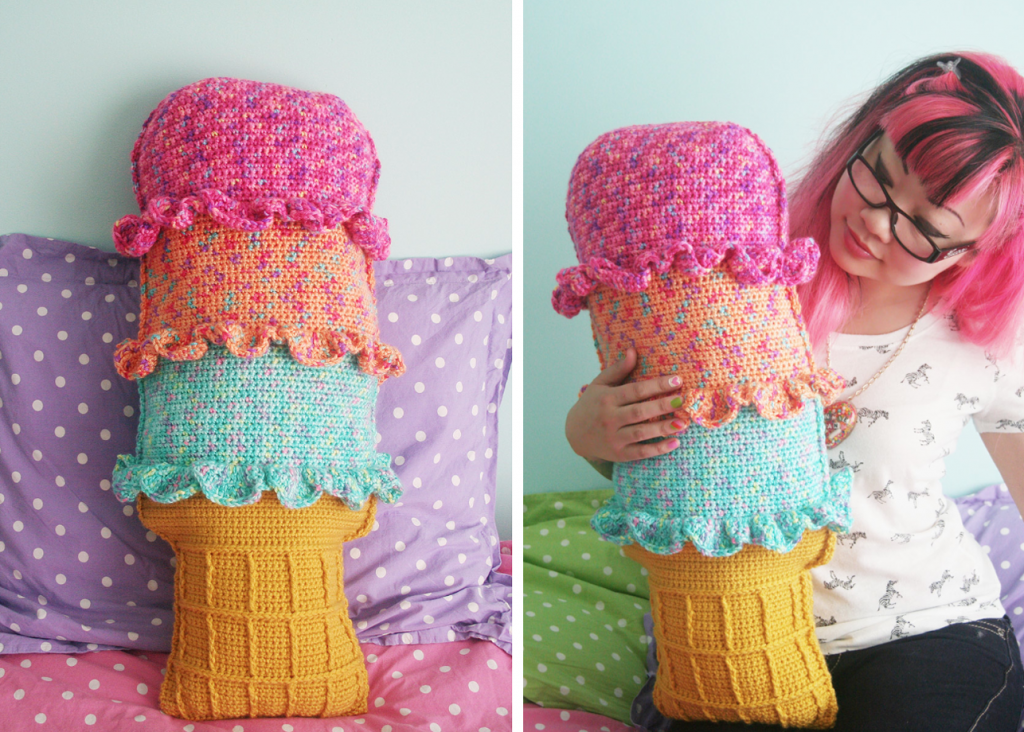 If you know me, you know I have a deep relationship with triple scoop ice creams! 😉
In this free crochet pattern for Michaels.com, I was asked to create a summery project using Red Heart Gumdrop! And then the Rainbow Sherbet Throw Pillow was born! Edit, June 4, 2014: Please find the pattern here on my blog. Michaels.com is currently re-vamping their pattern/project section, and the above Michaels.com link is disabled for now.
I already had the mint green Gumdrop (Smoothie) and was thrilled to find a project for it!
The really fun part of this pattern is the mix and match aspect. You can make one scoop, two scoops, or three scoops, (or even 50 scoops if you are really adventurous) and you can use all your favorite colors and flavors… even on the cone! I'm starting to make a vanilla scoop with a hot pink cone :). I'll also be writing the pattern for a soft-serve top and a sugar cone bottom for the ultimate mix n match ice cream throw pillow party!
P.S. Here is the fix for Row 31 of the Sherbet Scoop!
Row 31: (RS) Ch 1, turn. 1 sc, [1 hdc, 1 dc, 1 htr, 2 tr each in next 5 sts, 1 htr, 1 dc, 1 hdc, 5 sc] 5 times. 1 hdc, 1 dc, 1 htr, 2 tr in next 5 sts, 1 htr, 1 dc, 1 hdc, 1 sc each in last 2 sts. Break off Cherry. (124)