SooooOOOOooooo. Here's the story. While I'm prepping for Renegade Craft Fair, I realize that the berry basket I usually put my strawberry rings in is in L.A. (from Anime Expo). I either need to buy a new berry basket or come up with something different.
The berry basket is cool…cuz…you know…berry rings go in the berry basket … but I notice that they don't always sit perfectly in there and sort of start to pile up on each other. I like the idea of using a regular ring display with the little slots that the rings go in, but they are usually pretty boring. You can find lots of tutorials via Google search for DIYing your own ring display from scratch, but I don't have a lot of time to spare. Craft fair is in  3 days and I have a million other things to do.
So, I decide to buy a regular black velvet ring display from Michael's, some Martha Stewart green glitter paint (I think green will set off the strawberries nicely), and invoke all the awesomeness of your fancy velvet Elvis paintings.
The color I choose is a nice, bright, yellowy springy green called PERIDOT, which, by the way, is my birth stone, and I always thought it was ugly and the worst birthstone ever.
This should have been a clue for what's to come…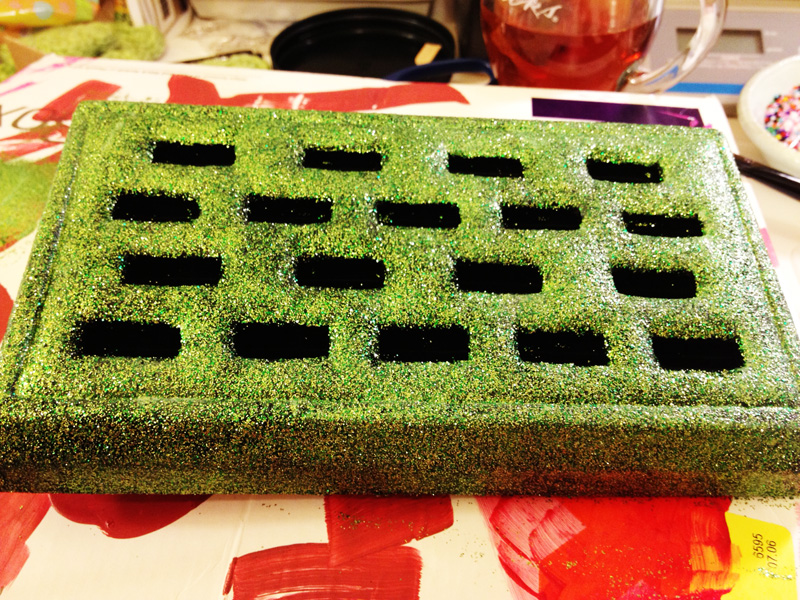 HIDEOSITY!!!!! I don't know. I mean. It's not horrible, but it's just not what I had been envisioning in my head. I thought it would be really beautiful and cute and glamorous, but it's more like, gross, ugly, tacky, and weird. Like the Hulk disco-barfed on a street gutter.
At this point, I realize, I can't stop now. I NEED TO PUT MORE STUFF ON IT. Embrace that tackiness, make it weirder, make it uglier. Enter: green elastic ruffle trim I just happen to have because I love ugly things.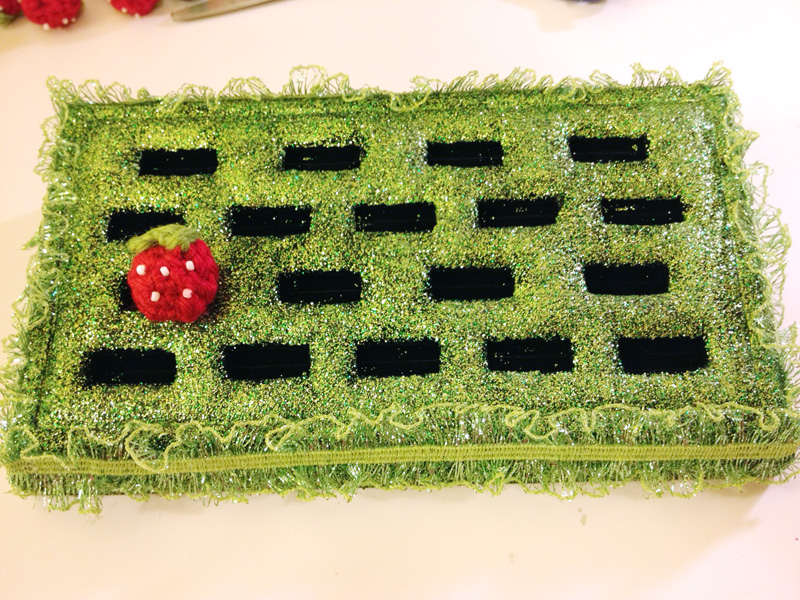 You're probably like, "UH, by the way, it's still ugly."
I DON'T CARE. For some reason, the ruffle trim saves the whole project for me. I was going to also add a pearl trim and some bows, but, I decide to stop here, while I'm happy with it, and just let the rings stand out.
I'm really pleased with how it turned out now. I'm a happy camper.
If I were smart, I would have first painted the velvet with a regular green fabric paint and THEN gone over it with the green glitter paint. However, what you're looking at only took two coats (just one bottle) of glitter paint, so, this paint is pretty good, and now I can go do the other eleventybillion things on my to-do list.
*high-fives Martha Stewart*