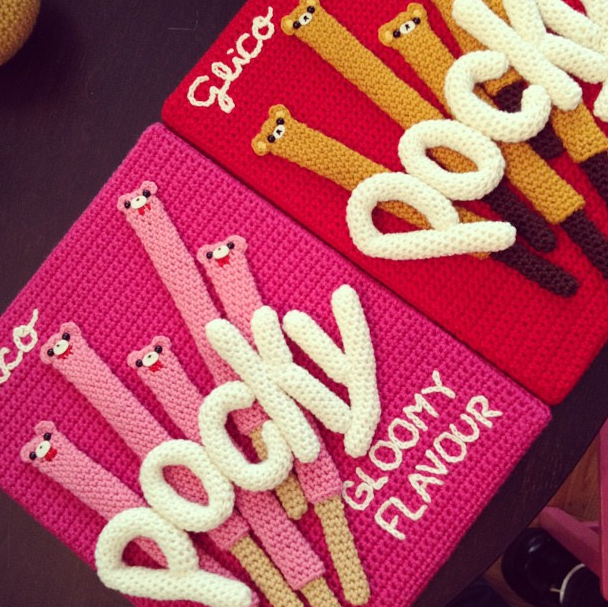 I've been living in a sleepless crochet-haze the last 5 days or so, working on these crochet paintings for the J-Pop Explosion art show at Hairy's gallery. Here's the little Q&A I did on their blog.
Sorry I didn't get to blog about Craft Wars yet! Not only was I working on these crochet paintings, but I'm also planning for Renegade Craft fair, and I'm also house-sitting right now! EEP!
I'll post better/more pics of the Pocky paintings after Friday, when the show opens :). I'll also post my initial sketches and progress pics, and you'll get to see how things don't always go as you planned :P. At first I was going to have parts of a 3D Godzilla on the edges of the canvas biting into a a big box of Pocky which would be the canvas itself, but then I decided to just focus on the Pocky instead! Still turned out ok, I think! Actually last night I was freaking out because EVERYTHING WAS GOING WRONG, and I thought I had to deliver the paintings in an hour. I was really sweatin' it! Luckily, I got one more day to work on it, so I drove back home today from housesitting to get them finished up.
I hope to have time to make a few smaller paintings for the fair as well!