Hairy and I went to NYC and then drove to Boston because United screwed up our flight to Hong Kong last year and gave us travel vouchers. We ate lotsa food, and visited some friends. Some photo highlights: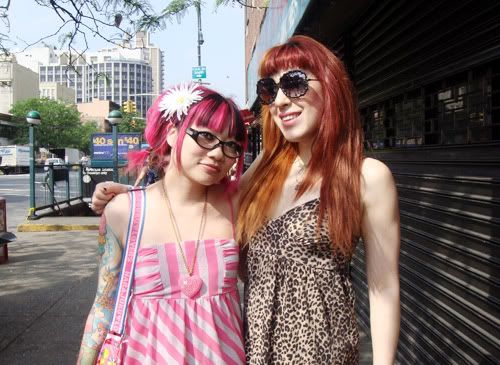 Me and Kerin Rose of a-morir. I love watching her brand get huger and huger. It's exciting! This was our first time meeting in person. She cracks me up; she is so full of energy! We ate at <a href="http://www.angelicakitchen.com/">Angelica Kitchen</a>, and it was the healthiest meal I ate on the whole trip! Aside from the pop rocks chocolate she bought us at the Israeli market. ADDICTIVE.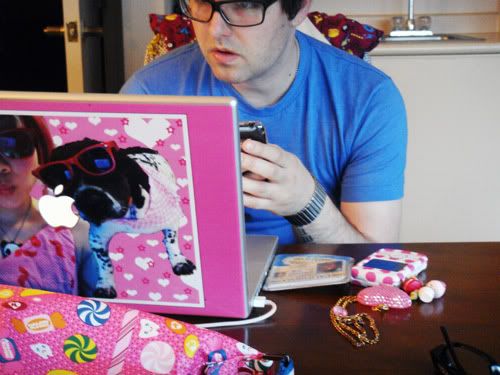 Hairy conducting business at our hotel in an ocean of pink accoutrement.

Eating a giant Portuguese donut in Cape Cod/Provincetown.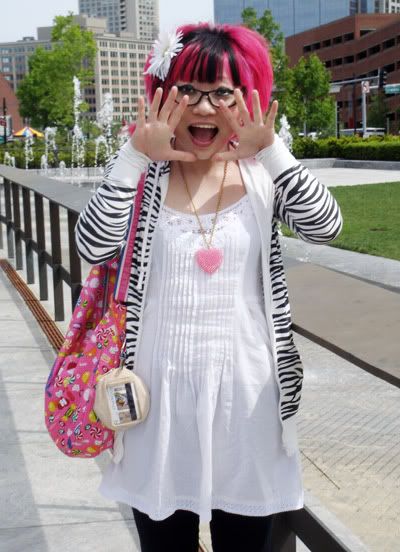 Being a huge dork in the North End of Boston.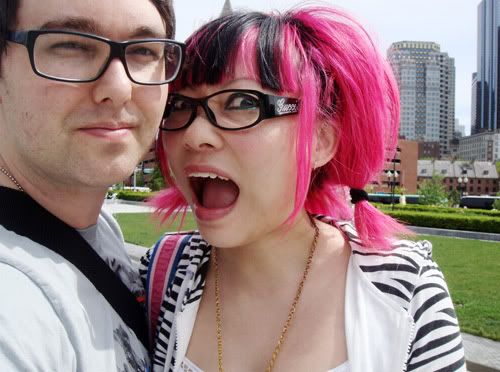 NEED MORE FOOD. EAT YOUR FACE.
Ok, now there are a TON of pics under the cut!!!!! I kind of gave on proper chronology…. at least I got the locations right! 😛
I will try to post the vacation video montage soon. It will include Hairy's run-in with the law.
Our journey started in Weehawken, NJ. We stayed in Jersey cuz my mom got a great deal with her AmEx points. We just took the ferry across the Hudson to NYC every day.

You can see NYC across the way.
Hairy wanted to hit up Momofuku Ramen on our first night. The Momofukus (there are 5 diff locations with different kinds of food) rate in the top 50 best restaurants in the world. We had to wait quite a bit, but the food was SUPER YUMMY!!!!!!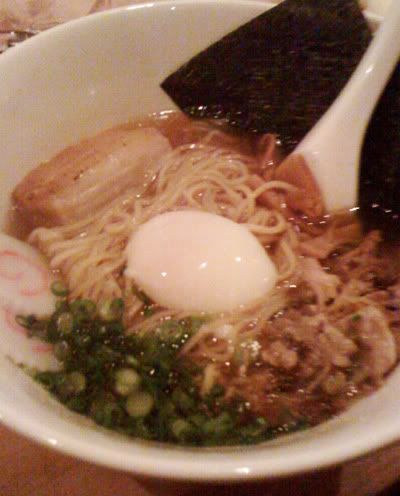 This is probably the best pork bun I have ever eaten. The pork was simply melty.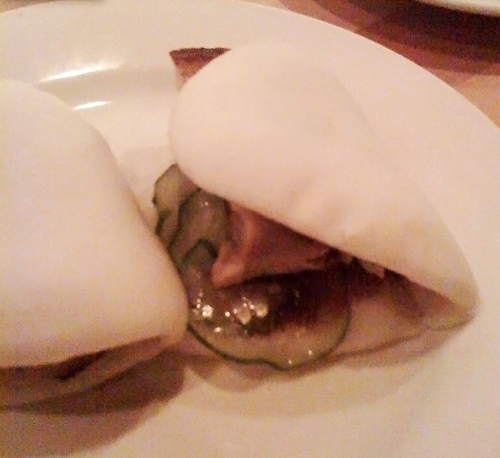 Hairy ordered a jar of pickled veggies as a side.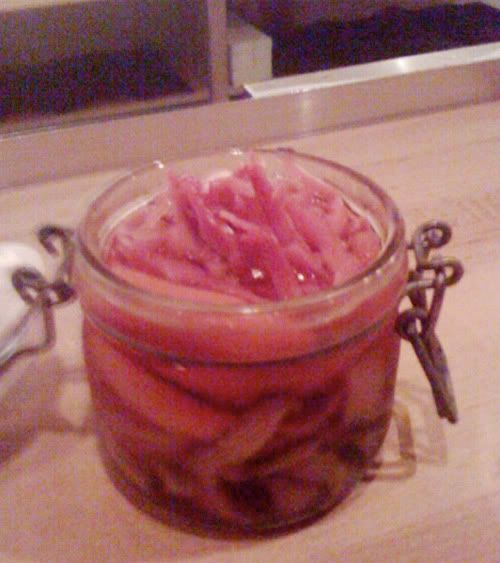 I can't really remember what this is aside from pickled chard…. bok choy?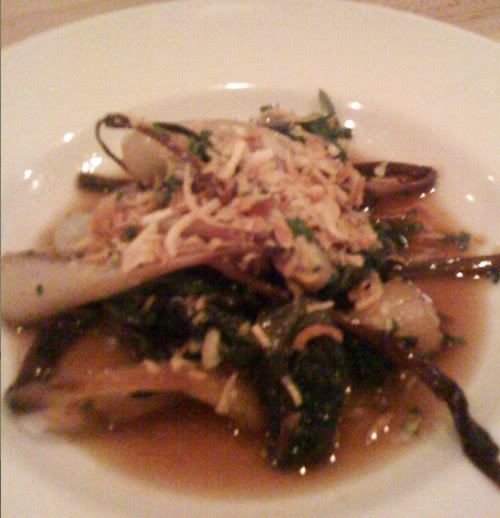 We wandered around the East Village and stopped at this crepe place for dessert and coffee. I look like I am disgusted, but it was quite delightful.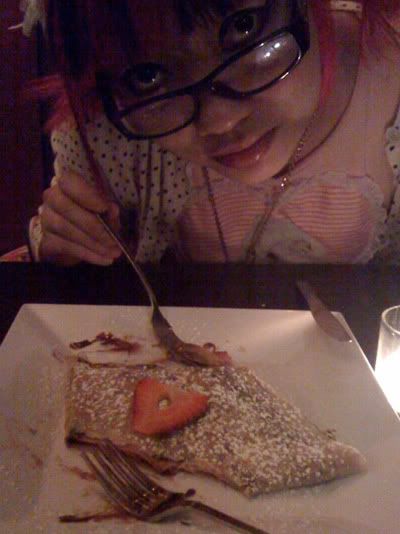 Cool hot dog sign!
This is in the hood somewheres: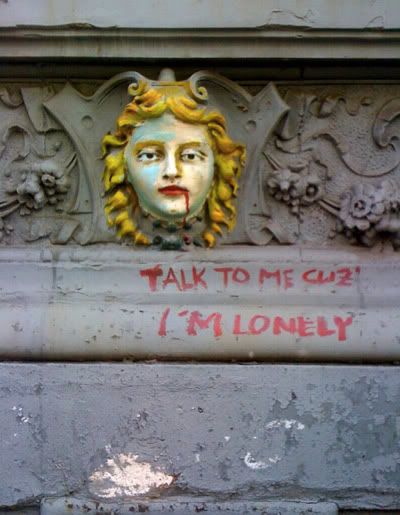 We went to check out Shepard Fairey's art show, and this was outside the gallery.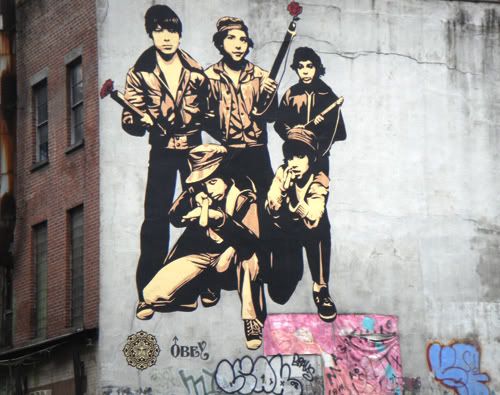 Failed jumping pic in front of graffiti!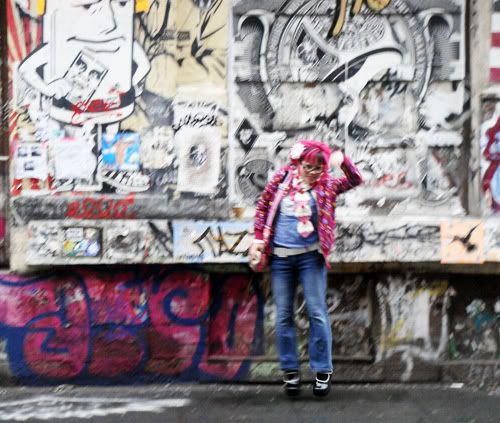 Hairy snapped a pic inside, altho I'm not sure that was really allowed…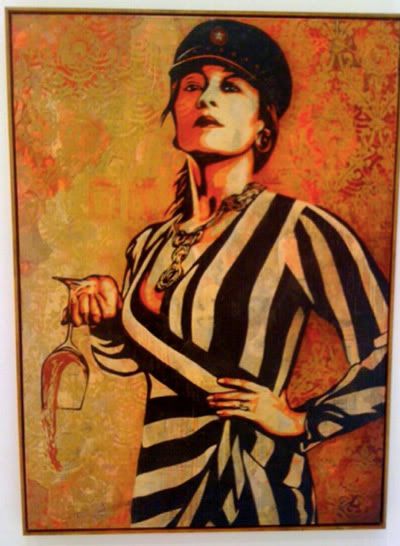 He was also obsessed with Mr. Softee trucks. He kept telling me to stand in front of one for a pic, but I always felt embarrassed because the trucks were in a lot of foot traffic.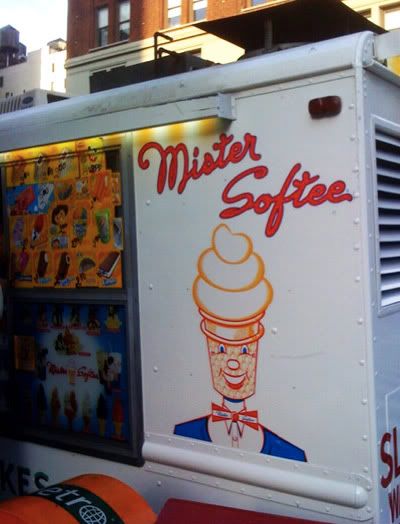 I have no idea where the following pics were taken. Somewhere in NYC! Central Park? We only walked thru a tiny corner of Central Park while we were trying to find the Natural History museum.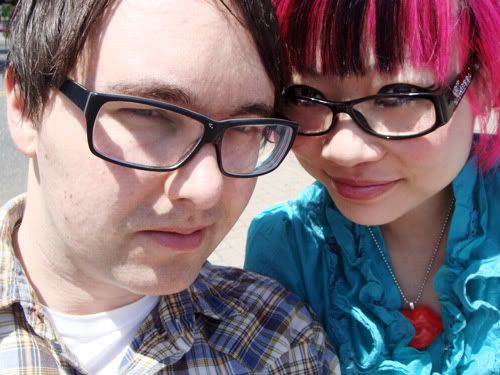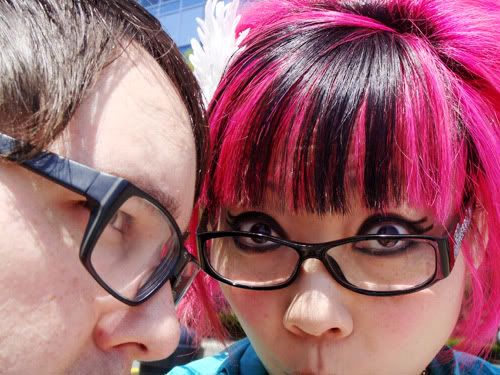 At some point, I went crazy in Top Shop and came home with this stuff: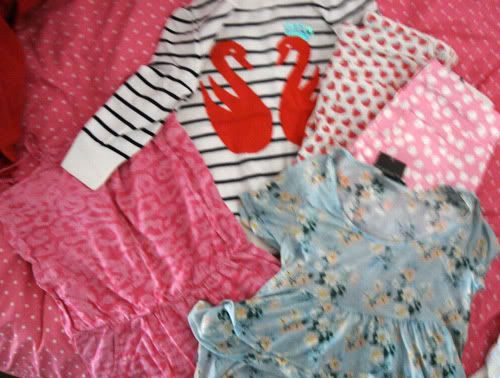 I kinda didn't realize that you could order online this whole time!! It's probably for the best. (Swan sweater with sequin crown, strawberry print skinny jeans, heart print skinny jeans, floral belly shirt (I don't normally wear belly shirts, but this one is longer in the back and it's like the perfect cupcake tattoo display!, pink pajama romper.)
We randomly ran into this bao or bun place called BAO HOUSE. Best name ever!!! The place was really small and cute. I would say the pork bun at Momofuku was better, but you can't beat Bao House as a name.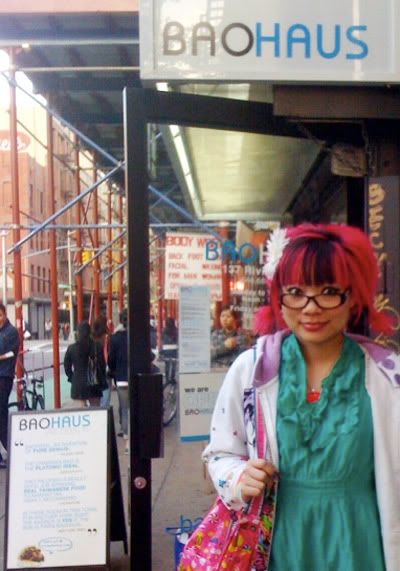 Okay, this next series of pics will really only appeal to foodies, cuz there are a LOT. Sorry about horrid quality due to low light. Hairy made reservies at WD-50, Wylie Dufresne's restaurant. Here is his Wiki page if you are not familiar.
When I go big at a restaurant, I WANT TO GO BIG. 12 course tasting menu? YES. But we had been eating our way around the city so much that I kind of wanted to quit after the chicken course!!!! Here we go.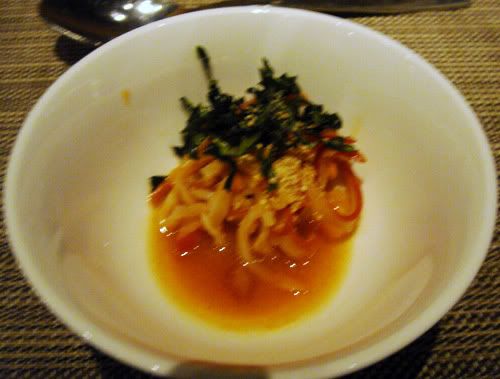 Black bass, nasturtium, rhubarb, curry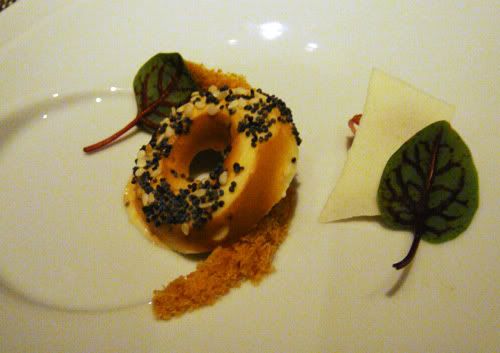 Everything bagel, smoked salmon threads, crispy cream cheese (I didn't really hear the server say the word ICE CREAM and I tried picking up the bagel with my fingers. It melted out of my hands. It was ice cream shaped like a bagel that was supposed to taste like a bagel and cream cheese.)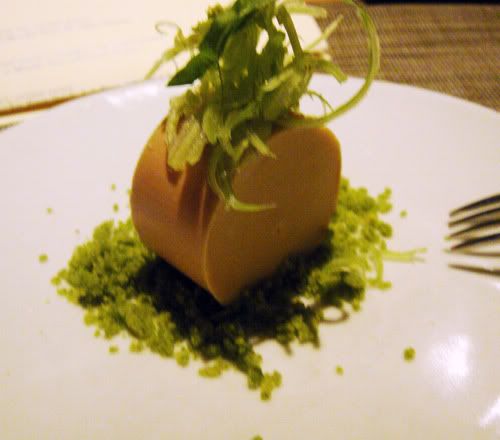 Foie gras, passionfruit, chinese celery. (The passion fruit part was inside the foie box.)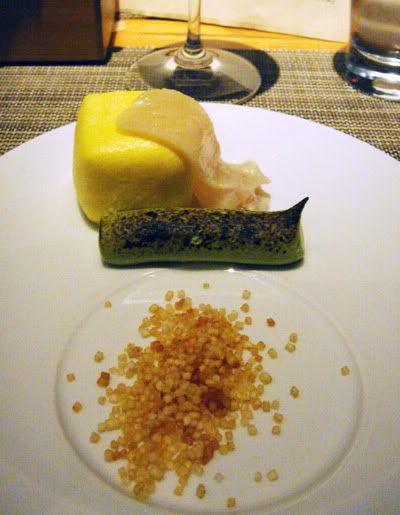 Scrambled egg ravioli, charred avocado, kindai kampachi. (The scrambled egg ravioli was cray cray. It was like the skin was made out of egg, and the inside was also made out of egg, but a different texture.)

Cold fried chicken, buttermilk-ricotta, tabasco, caviar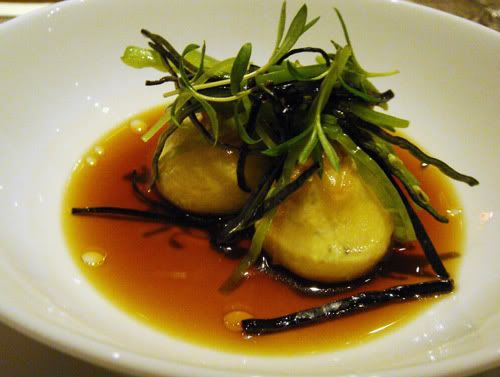 Beef and bearnaise (This was an interesting play, because the beef was the broth, and the bearnaise was in this dumpling thingie.)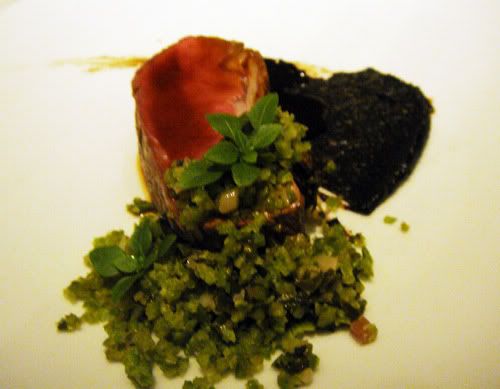 Lamb loin, black garlic romesco, soybean, pickled garlic chive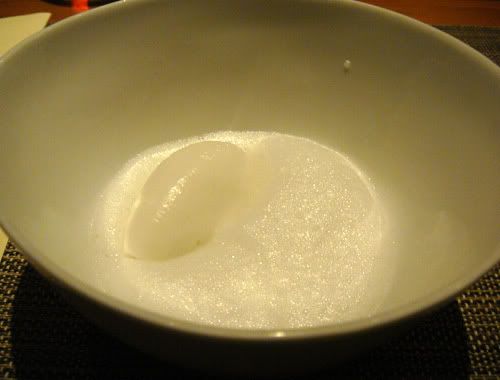 Chewy lychee sorbet, pistachio, lemon, celery. (Okay, I am not a huge fan of FOAM in my food. I get what it's supposed to do, but I just do not enjoy the "mouth feel." I was sad that I was too full to enjoy dessert, and also sad that so much dessert involved FOAM!)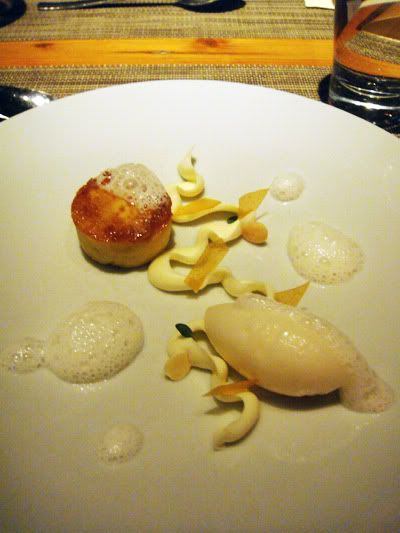 Carmelized brioche, apricot, buttercream, lemon thyme
We had a hazelnut tart, too, which we seem to not have a pic of.

Cocoa packets. Chocolate shortbread, milk ice cream (The cocoa packets were really cute. You ate the paper and they had little cocoabits inside!)

Eating is very serious business. For some reason, our server asked if we wanted to see the kitchen and meet Wylie. I was really tempted to ask to take a pic with him, but then I got scared and didn't. HAHAH.
For our last night in NY, we moved to a small hotel in Brooklyn. Hairy stopped to take a pic of some graffiti and I thought it was a really funny image. Tattooed ude with a Lomo, taking a pic of street art, carrying an Urban Outfitters bag.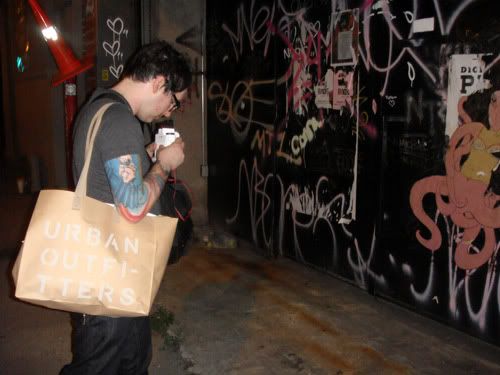 Momofuku Milk bar is AMAZING. I am not 100% on their cookies, but their Cereal Milk milkshake is soooooooooo good. They also have fruity cereal milk. It's genius. I want cereal milk to come to CA! They also sell pie by the slice, but not cake by the slice :(. I wanted this cake super bad!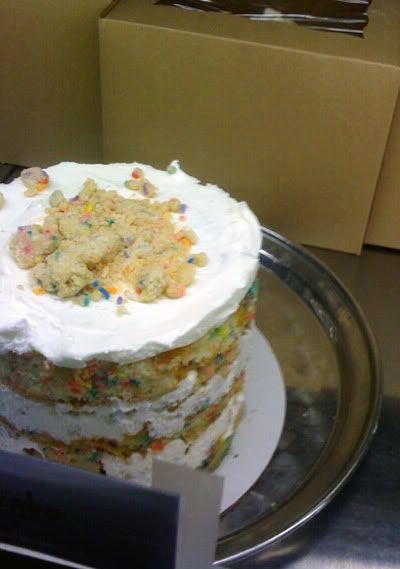 Hairy also ate the phaal at Brick Lane Curry. If you've ever watched Man Vs. Food, you might recall the place he ate some super hot curry in NYC, where the people in the back wear protective gear to prepare the curry. Some dude from Florida at the table next to us had also seen the show and wanted the super spicy curry. You have to finish your curry in 30 mins if you want a certificate and a free beer, but Hairy didn't really mention that he wanted to be timed, nor did he want to finish the volume of the bowl. Apparently, he has had spicier things, so it wasn't like Death Curry.
We took a taxi to La Guardia to pick up our rental car. The plan was to drive to Boston, and then stop somewhere along the way for the night.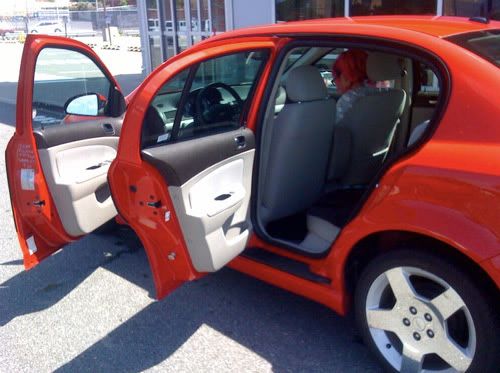 We drove through Connecticut, and I missed it entirely by sleeping the whole time! We stopped in Providence, RI and hung out at a coffee shop. By this time it was about 9pm. We called one hotel and it was booked, and Hairy decided to keep driving into Cape Cod since there was a place with available rooms.
On the way out of Rhode Island, we stopped by Olneyville NY System for hot dogs. BEST HOT DOG OF MY LIFE!!!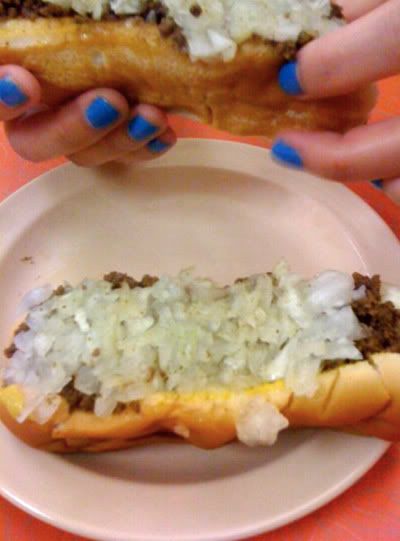 They say they only serve them one way: with "hamburger sauce," onions, celery salt, and mustard. IT WAS HEAVEN IN MY MOUTH.
We then headed to Cape Cod. When we got there, we grabbed a slice of pizza from the only place open. And this is was our view in the morning.

We drove into Provincetown for some eats before driving to Boston. The "downtown" area is very very cute, lots of people walking their dogs, and tons of food.
We started at a Portuguese bakery.
And then moved onto a lobster roll shack, where we proceeded to be gangsta.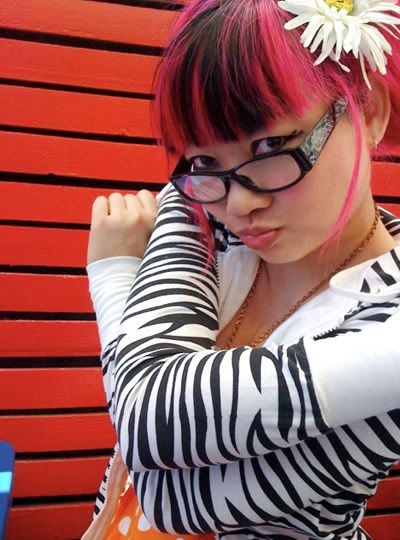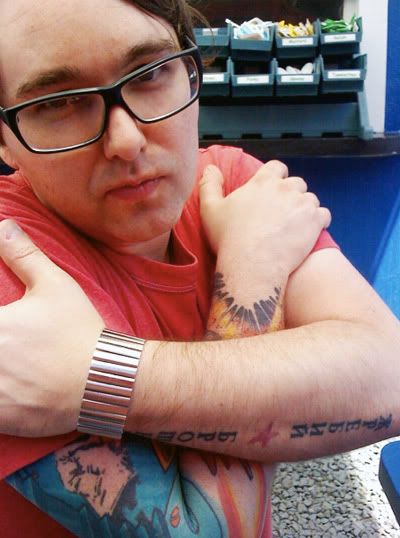 I really loved this sign!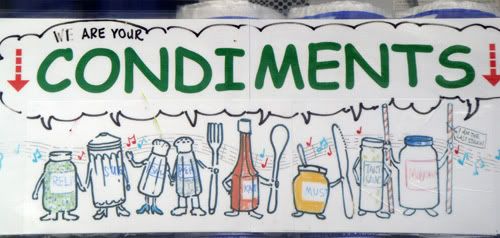 Once we got rid of our rental car and got into Boston, we started to walk around, down Newbury Street, and eventually hitting the Boston Common.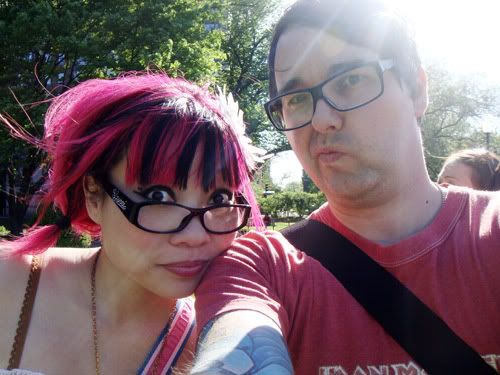 This is how I feel about sunshine.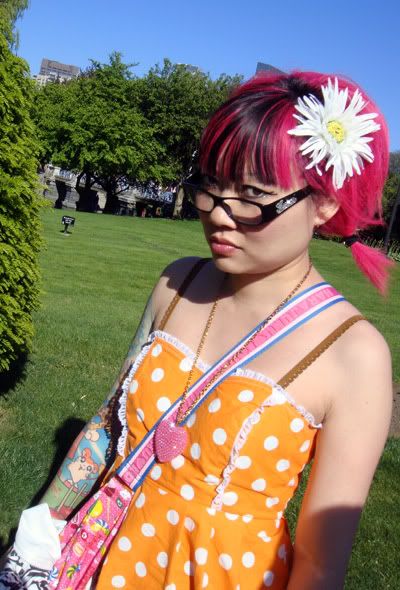 Very cool: a swan nesting!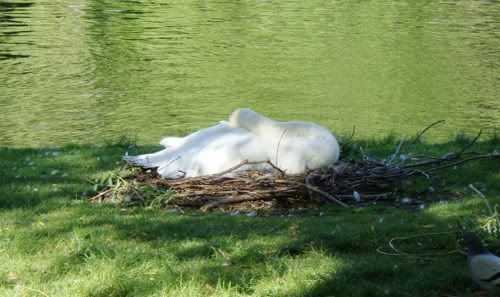 We have video of both the momma and papa swan on the nest, turning the eggs.
As Cuppy and Esther suggested, we headed to the North End, and visited Modern Pastry. We had a cannoli, and I also bought pink cookies.
Other people were taking touristy photos by the fountain thingies, so I thought we ought to as well.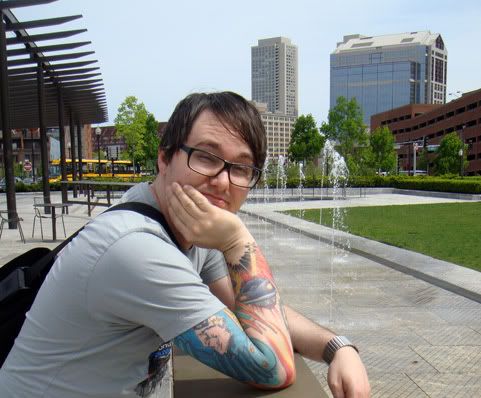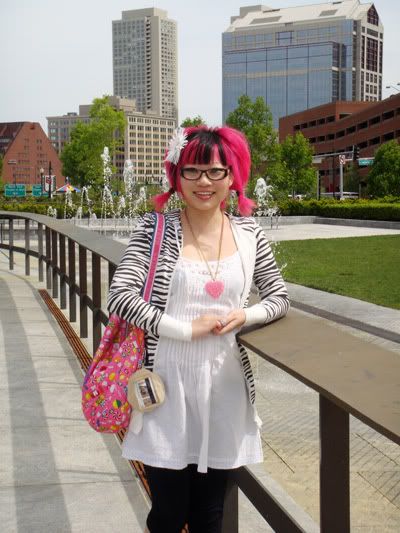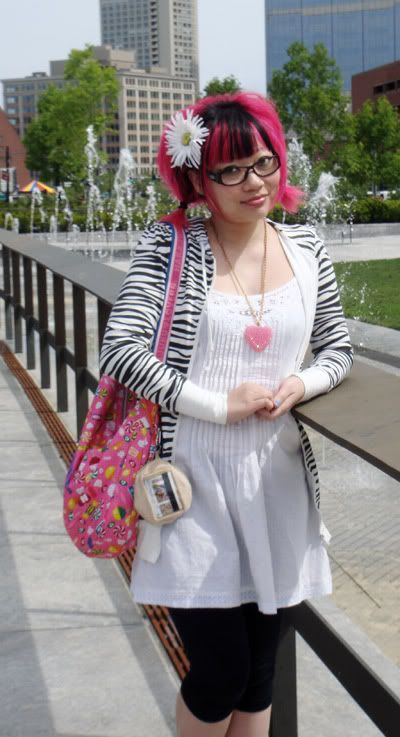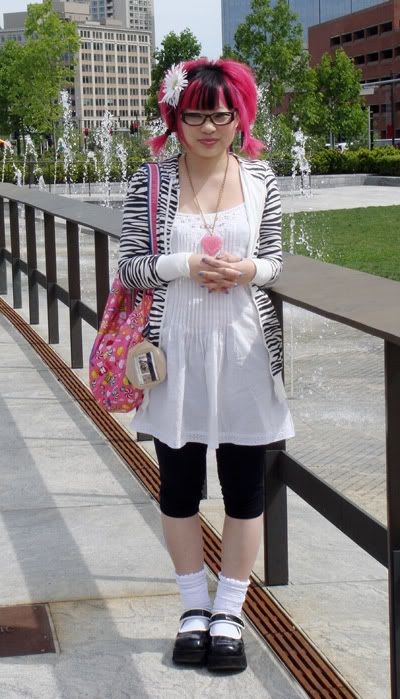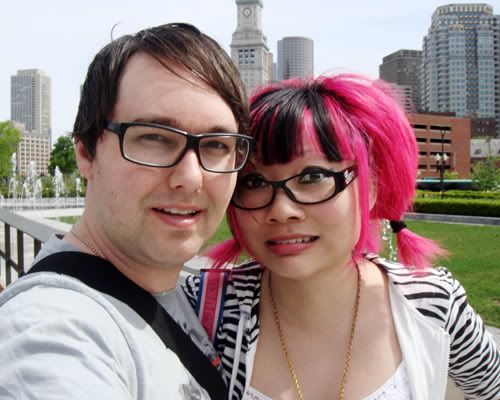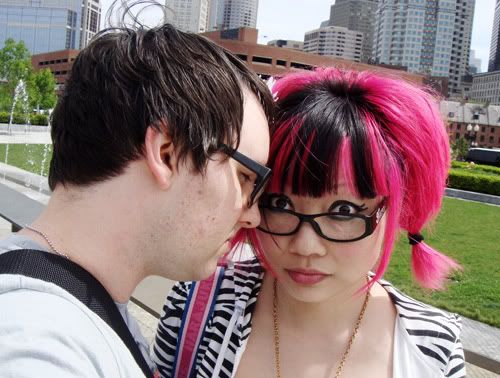 Here is Hairy in front of Paul Revere's house. I made him take this for his parents because there is a pic of him here when he was little.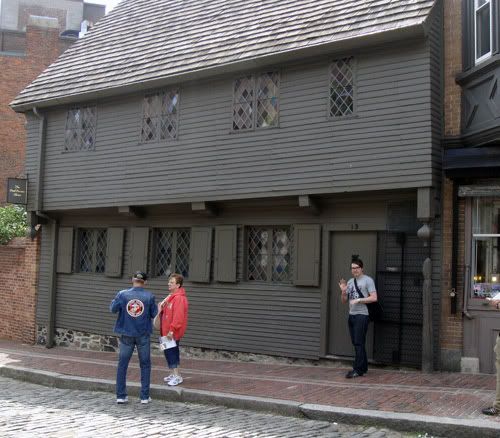 While walking around town, we bumped into this place called SUGARY HEAVEN. I went inside and bought a bag full of chocolate-covered business.
Here's me in the most awesome staircase ever holding a marshmallow lolli.
Hairy made us take the train to Salem to see the witch museum. Before entering, I demanded hot dogs and cookies. This was one big cookie. I'm also wearing the amazing unicorn hoodie from Iron Fist that Hairy bought me at Yellow Rat Bastard in NYC.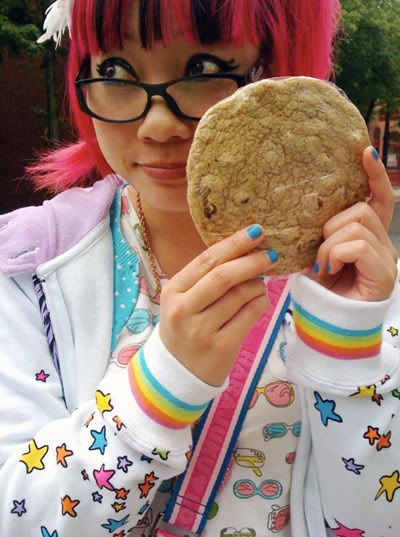 Later that day, we met up with Capricia and Nathan. I've known Capricia on the internets for many years, and she is also IRL buddies with my pal Esther, so it was soooo cool to finally meet her in person!
We met at a sushi place that Esther suggested: Fugakyu. The place was huge, and the food nummy!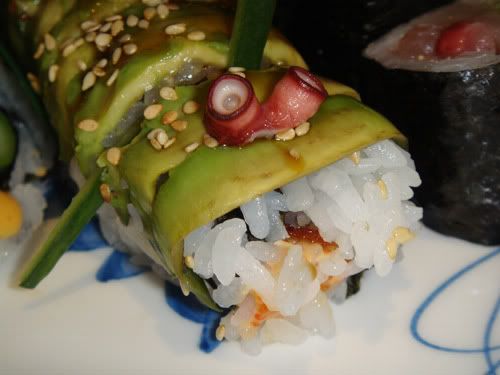 Afterward, we got ice cream and took these amazingly scary photos! (Me: scary. Capricia: cute & tiny.)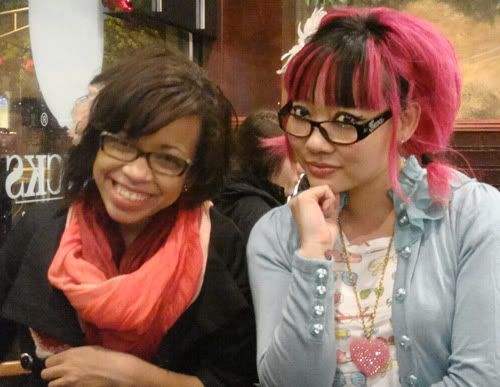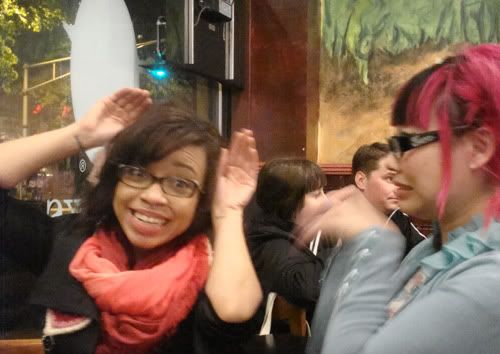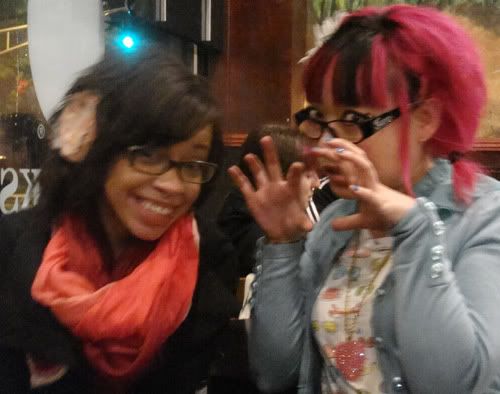 The next day we went to Friendly Toast, a very cute retro-y diner with tchotchkes and memorabilia and the BIGGEST SLICES OF BREAD I HAVE EVER SEEN.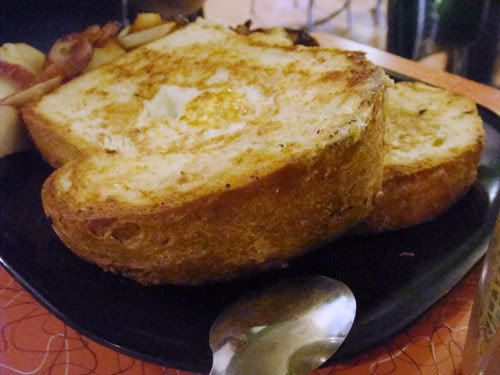 Later that night, we met up with Amy whom I have also known FOR YEARS on livejournal via the pink hair group, and finally got to meet!!! YAY!!! We went to a kooky small plates place called Cuchi Cuchi which had a very 1920's flappery feel and DELICIOUS FOODS!!!!!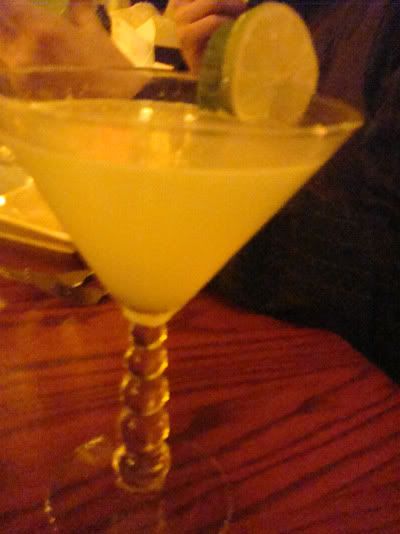 cucumber gimlet!


dessert!


AMY!
We have a photo together on her camera, which I haven't seen.
On our last day, we checked out of the hotel, and then just wandered about town. We grabbed pastries and then sat in the park. Then wandered around some more, and snapped some pics.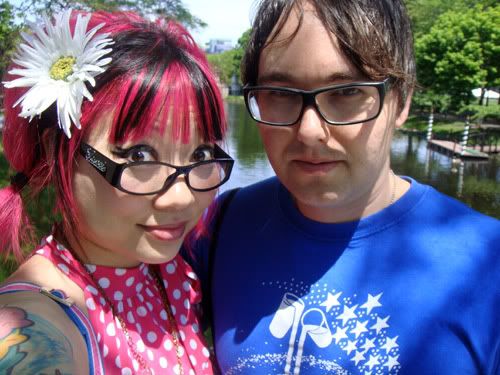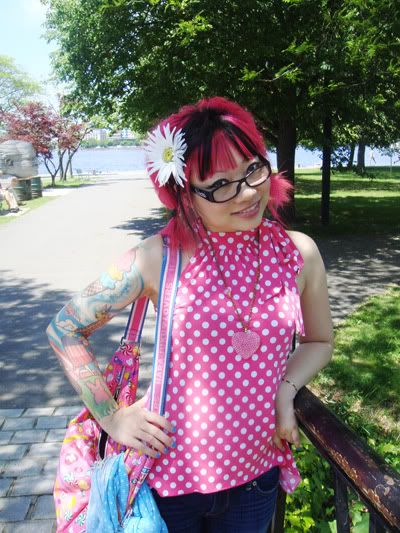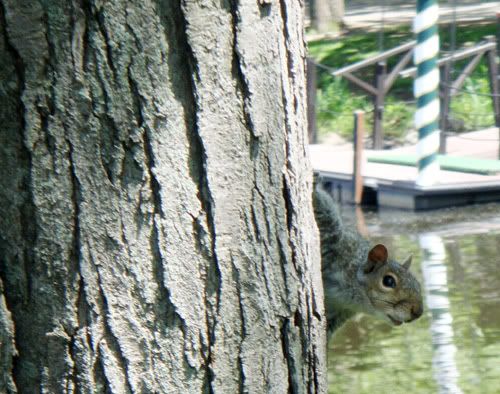 I think this next photo is hilarious because we are each trying to look like the other person in photos. Hairy always looks mad, and I am always opening my mouth.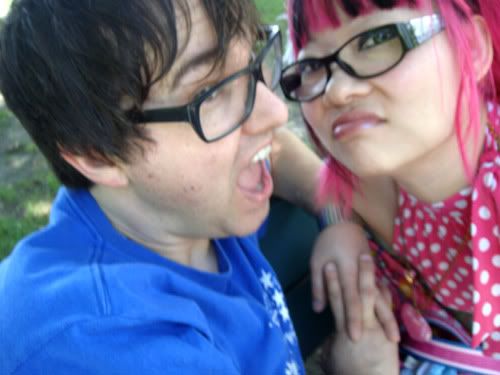 Our last stop before hopping into a cab was Borders. I bought a book by one of my ex-clients at the agency, and also took a pic with my friend Jandy's young adult novel.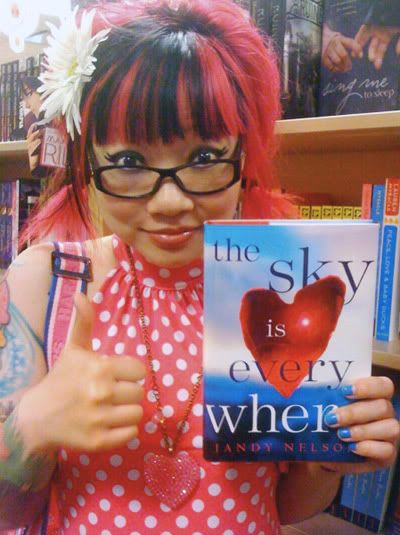 That pretty much sums it up!!!
Now it's time for work mode, and exercise mode!!! My turbo jam came in, and I am going to jam it up. As soon as my arm feels better. I just got tattooed today!