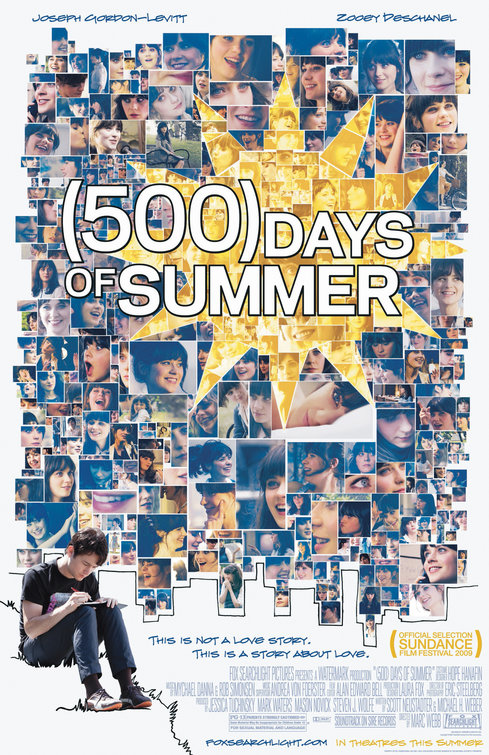 Hairy and I went to see this the other night at the Metreon after eating chili dogs. We were going to see Bruno, but Hairy seemed to insist that I thought I wanted to see 500 Days of Summer more (not necessarily true, but, whatever, I'd see either one.) I don't think that Zoey Deschanel is a great actress at all, but she is my tv girlfriend, so I must see her movies. I was prepared to dislike Joseph Gordon-Levitt, but, as it turned out, he was not as annoying as I thought he would be.
All in all, I enjoyed the movie and thought it was a nice quirky little flick about a relationship. It's not super cheezy or sappy, so don't go into it expecting such!
I give it two thumbs up for wardrobe, both his and hers.
Also, after the movie, I wanted to take a picture on the coin-op train. (It did not turn out being a great picture. I had no idea I was walking around with such flat hair.) Then the security guard yelled at us and said it was "closed." If it were "closed," you probably should've "closed" it off. I don't know. That seems….logical?
Also here is a cute pic of Bibi that Hairy took. Check out all her tummy wrinklez. She's like half dog, half accordion.
Oh yeah, and today, I met up with an old friend from my grade school for coffee since he was in town! We were both fairies together in the 5th grade production of Midsummer Night's Dream! Wish I had a pic of that for y'all, but instead, I leave you with the latte I had at The Grove. It upset my tumz but it sho was cute!
Milkfoam Happyfaces,