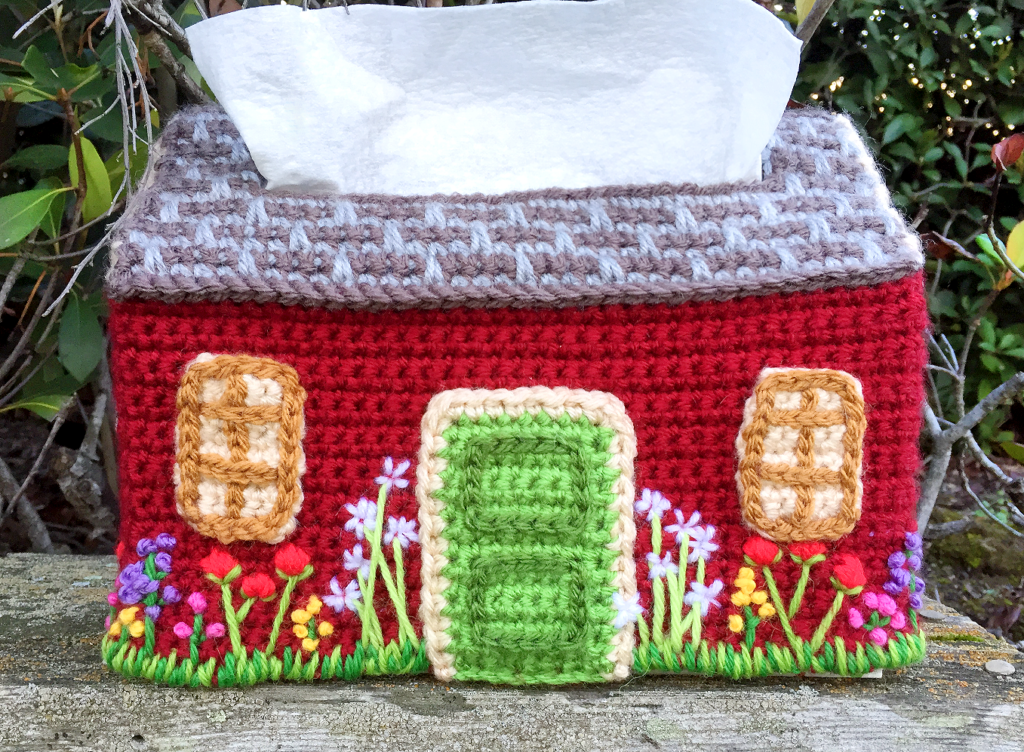 So…do you guys remember how last year I sketched a project for my Auntie Mary? This is highly representative of how I unfortunately prioritize my crafting work: my friends/family come dead last, and all my business stuff comes first. So poor Auntie Mary has waited over a year for this cozy she requested for her bathroom box of disposable hand towels! I'm the worst!!! I hope she still uses them? But I think it came out super cute!
I was still in kind of a rush to finish. I was sewing on the grass just minutes before she arrived at my parents' house on Christmas Day.  I probably would have put another window on the sides of the house and worked on those green shutters, but those are pretty easy additions for future projects. I also skipped the chimney due to time, but I don't think the finished project really needed it.
I am really NOT the world's greatest or most experienced embroiderer, but I gave it a shot with these wee flowers. It was pretty fun! I am sure you could get wildly more creative here  if you've done more embroidery before. All I basically know is straight stitch, satin stitch, and the french knot!
I'm not sure how many people buy these disposable hand towels, but if you do, now you can make a cute lil cover for it!
This reminds me a lot of fairy houses and gnome stories. I kind of want a little adorable village with different shapes and sizes of Kleenex cottages… would be a fun group project…!
Here is the box in a slightly different setting. I went a little crazy snapping photos really quickly before putting this in a gift bag!
Unfortunately, I don't have step-by-step photography for this one, so please rely on the photos to figure out what goes where. I think it should be pretty straightforward! Can't wait to see your unique versions!