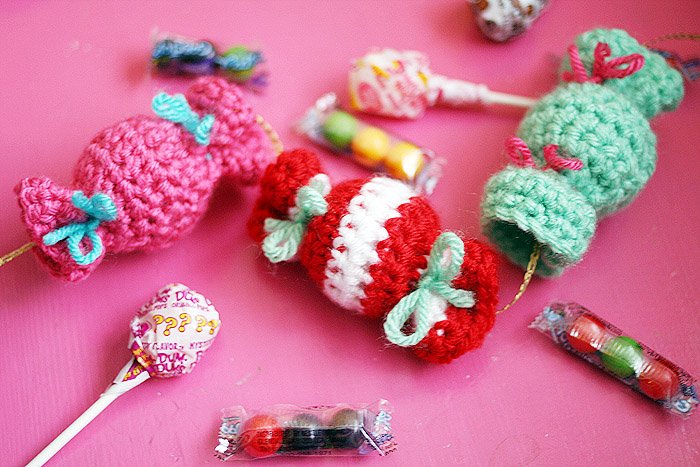 This pattern is pretty much the easiest pattern ever: it's a rectangle.  The end.
It's great for beginners! Great for kids! Host a holiday crochet party where everyone makes one crocheted candy and then string them all together to create a group garland! Or, everyone can keep their own candy and string them as ornaments. I will probably glue pinbacks and hair clips to the backs so that I can wear them. There are a lot of possibilities with just one little crocheted rectangle!
For more advanced beginners, you can get some great striping. You can alternate different colors every other row, and carry the unused yarn. Or, you can alternate colors ever 2 rows, and just drop the unused yarn and pick it up on the way back. Working a thin sparkle or sequin yarn with your regular yarn also and some subtle bling. Either way, all you need is a little bit of yarn and a styrofoam ball to get going!
I also tried filming a video tutorial for this. People have been asking me to do videos, but they are quite a bit of work, so I haven't really been super eager to get on that task, since I do everything 100% by myself.  But since this project is SO EASY, I thought it would be a good ice breaker for me to film a video and for you to break out some crochet hooks!
Continue reading